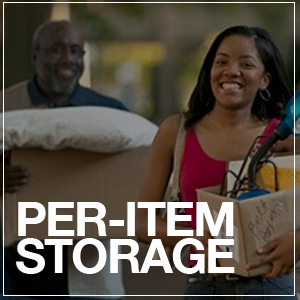 All items are $7.00 Per Item Per Month
An item is considered to be any loose article, such as a box, bag, or piece of furniture. There is a weight limit to prevent over packing: one person must be able to lift each item. All items must be labeled with the student's last name and the total number of items stored.
*Large items like mattresses and sofas are flat rated- inquire to find out specific pricing.
To schedule the pick up or delivery of your storage items review the options below and click "Book Now":
Self-Haul: For no charge you can pick up your items at our office. We accept pick ups Monday–Friday 9:00 AM-3:00 PM. 
Curb Deliveries: We will deliver your items curbside from your dorm for $40.00 on weekdays.
Room Deliveries: We will deliver your items to your dorm room for $120.00 on weekdays.
Special Weekend Hours: On Saturday August 31st through Monday September 2nd we will be doing curb or room pick ups between 10:00 AM – NOON.  The cost for a curb pick up is $60.00 and a room pick up is $150.00 on the weekend. Our office will then be open for self-haul pick ups from NOON – 2:00 PM but an appointment must be made in advance.
Free Deliveries: We will deliver your items free of charge at the following locations and times on Wednesday, September 4th. Please call or email to arrange delivery.
8:30 AM – Dodd in front
8:45 AM – Currier near Driscoll
9:00 AM – Morgan at the West Entry
9:15 AM – Greylock  on North Street
10:00 AM – Frosh Quad at Willy A
10:30 AM – Mission at Dennett Entry
NOTE: PAYMENT DUE WHEN YOUR ITEMS ARE DELIVERED TO YOU OR WHEN YOU PICK UP AT OUR OFFICE. WE ACCEPT CASH, CHECKS, MONEY ORDERS (CREDIT CARDS AT THE OFFICE ONLY)
Book Now